The High School Skit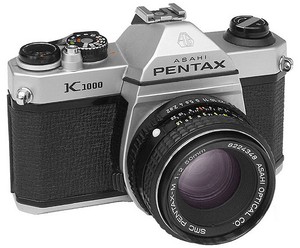 It was 1984: Michael Jackson and Madonna ruled the charts, cars were pitiful, and I was the photographer for my school's yearbook. I still remember the camera I used … a Pentax K1000 … or was it a Yaschica? Same difference.
Anyway, because I was on the yearbook staff, I was selected to play the part of the Cowardly Lion in a skit meant to encourage sales. I still remember my lines (I was a lion saying lines – ha!) … "Courage!"
Here's the thing, and this is the honest truth (unlike what the mainstream news will tell you), playing the part of the Cowardly Lion, when I was given a medal to honor my bravery, actually gave me courage. Yes, even though I was only acting, the costume and the script released the inhibitions deep inside me and led me to do something completely off script.
There on stage, in front of the whole school assembled, I asked one of my stage mates, "Does this mean I have the courage to do anything?"  After receiving a "Yes," I turned to face the auditorium and yelled out to the most beautiful and glamorous girl in the school:
"Lori Gilley! Will you go out with me?!!" 
Long story short, she didn't. …However, I got a standing ovation! Arguably the better of the two.
Take a Knee (Or Else)
It's now 2020, the craziest year in the history of years, and courage is all but gone out of style. Oh, sure, you can find it if you look in the right places, like on patrol with a police officer, with a nurse treating a Corona patient, or with parents trying to make ends meet after being out of work for 4 months.
But let me tell you where you will find the LEAST amount of courage – professional sports.
I'll be honest with you – as I always am – even though I think a certain large-afro'd professional football player of questionable skill is wrong about almost everything, it was courageous to be the first to take a knee during the national anthem. Yes, I said it – he did show an amount of courage in doing so.
But fast-forward to today and everyone is taking a knee, even if the reason for doing so is continuing a false narrative. Yet, is it courageous to do so? No, it's not. In today's social climate, taking a knee and wearing a t-shirt that says "Black Lives Matter" is nothing more than an act of self-preservation, not conviction.
OH! Excuse me! Did I say "everyone" in professional sports is taking a knee? I'm sorry … please forgive me! Because a FEW courageous souls have decided to take a stand (literally) while the rest either cower, show allegiance or sympathy to a manufactured social movement, or simply kneel to keep the endorsements rolling in.
Enter J. W. May
J.W. plays professional soccer (football) for the Savannah Clovers, a team in the National Independent Soccer Association (NISA). Even more importantly, he is the son of Tommy and Tammy May (Tommy's a deacon in our church). One day soon I'm going to drive to Savannah and have coffee with J.W. at Black Rifle Coffee Co. 
Not long ago, J.W. and his team played the Georgia Revolution FC in Chattanooga at Finley Stadium (shout out to UTC). When the Star Spangled Banner was played, guess who was the only one to remain standing … from either team?
You guessed it, my future coffee buddy, J.W. May.
When you read this, J.W., I just want you to know I am dang proud of you! I'll buy the coffee!
"Encourage"
How does one define courage? Why don't we pull an old dictionary off the shelf, one that's not been affected by modern revisionist culture, and read what it says?
COURAGE: Bravery; intrepidity; that quality of mind which enables men to encounter danger and difficulties with firmness, or without fear or depression of spirits; valor; boldness; resolution. It is a constituent par of fortitude; but fortitude implies patience to bear continued suffering. (American Dictionary of the English Language, by Noah Webster, 1828)
Now, let's look at how this 1828 dictionary defines encourage.
ENCOURAGE: To give courage to; to give or increase confidence of success; to inspire with courage, spirit, or strength of mind; to embolden; to animate; to incite; to inspirit.
Lastly, I would like for you to note how Webster uses the word encouragement in a sentence.
"The praise of good men serves as an encouragement to virtue and heroism."
For whatever it's worth, Colin Kaepernick encouraged other African-Americans (primarily youth) to make a social statement against police violence (based on an unfortunate false narrative). Whether or not their cause was justified, one can't help but admit those kneeling when everyone else was standing and deriding them was, in all fairness, courageous.
Flip the script… Now, with nearly every professional and non-professional athlete, regardless of color, taking a knee — instead of standing in honor of the flag of the very nation that affirms their right to be disrespectful to it — true courage is seen in those few who stand out from the crowd … literally.
In the book of Daniel we read of three Hebrew men who wouldn't bow before a 90ft. golden statue. Even though God worked a miracle and rescued them, they were thrown into a furnace because of their uncompromising… ummm… stand.
These days the furnace isn't quite as hot, but it's still deadly to one's career and social standing, at least.
Thank you, J.W., for the courage to encourage others… we sure do need it.