Daily Live Stream
Every day at 2 p.m. I do a live devotional and prayer time on Facebook. This is in addition to Sunday morning, Sunday evening, and Wednesday night.
All total, I am either live or showing recorded content eight times a week. That's way, way more than what I was doing before this pandemic forced everything online! But it's all good.
His grace is sufficient for the challenge.
This Week's Theme
The theme for this week's videos was found in Exodus 23, verses 29 and 30. In those verses God says that He would not drive out Israel's enemies all at once, only little by little.
God was capable of wiping out all of Israel's enemies. He was more than strong enough. However, doing things as a matter of process was better for the land and God's people (verse 29).
God could have given the children of Israel everything at once, but his desire for them (and us) was to mature through adversity. Even more, He wants us to become more and more sanctified (set apart for His glory and use) through the purging away of worldly idolatries that trap and destroy us.
Today's Tough Questions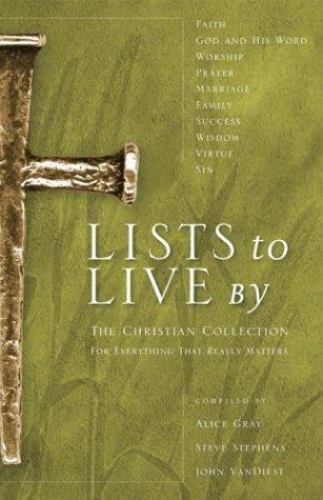 Therefore, This afternoon I pulled a book off one of my shelves and flipped through it until I found what fit the theme of this week's devotions. In the book Lists to Live By: The Christian Collection For Everything That Really Matters I found on page 48 and 49 "20 Tough Questions."
This afternoon I shared the first 10 with those watching live on Facebook.
What specifically are you gong to work on in the next week to become closer to God?
What do you feel is a little thing stopping you from getting closer to God?
What is one thing you need to confess this week?
When did you conquer sin this week?
In what areas of your life do you find it easiest to compromise your standards?
Does you faith point others to Jesus?
What are you going to give Jesus in the next week?
Can you give a recent example of a time you had to depend on God?
Where do you know you need humility in your life?
What would improve your prayer life?
As you can see, these are not easy questions for most people to answer. They weren't completely easy for me, if you want to know the honest truth.
But the fact is, if we are not struggling, and certainly if we are not growing and maturing in our Christian walk and faith in God, then we cannot expect to claim the blessings awaiting in the yet-to-be-conquered "promised land."
I'll share the remaining "tough questions" in the next post.